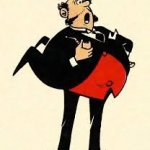 Lots sent:
11
Lots received:
9
Lots in progress:
6
Stars received:
5.00
Country:
Spain
Languages:
English and Spanish
Member since:
18 April 2019
Last activity:
12 June 2019
Hello! I'm an Spanish philatelist born in 1975.

I'm not looking for any stamps in special. So what you send to me will be very welcomed.

I must say I'm going to send ALWAYS used Spanish stamps. So I'm sorry if what I send is not useful for you. Anyway, you can be sure I'll send will be:

At least 50 stamps.
All of them different.
All of them in good condition.

I'm not going to send definitives or CTO's.

Feedback criteria:

If you send to me 50 used stamps, all of them different and in good condition, feedback will be at least 3 stars. (Of course, can be 4 o 5 stars).

If you don't send any CTO's or any definitives, feedback will be at least 4 stars. (Can be 5 stars).

If all the stamps you send to me, are from your own country or from Scandinavian countries, feedback will be 5 stars.

If you think what I send to you is not according 50stamps club rules, contact me before leaving negative feedback. All problems have a solution.