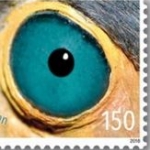 Lots sent:
10
Lots received:
7
Lots in progress:
0
Stars received:
5.00
Country:
Germany
Languages:
German, English
Member since:
13 September 2019
Last activity:
30 December 2019
Hello, I would love worldwide Fauna stamps, esp. birds, mammals, fishes, butterflies.... but also prehistoric animals and dinosaur.
I like older stamps with animal topics too (especially former colonies worldwide, occupied areas, german occupation zones).

Please send no CTO .... and only as many definitives as you would like to get yourself. ;)))
Because I´m from Germany: I have all stamps of my own country. Thanks.

Enjoy this exchange! I will do my very best!