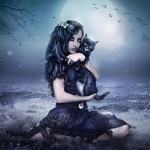 Lots sent:
46
Lots received:
43
Lots in progress:
1
Stars received:
5.00
Country:
Finland
Languages:
Finnish, English, Swedish and I can read German, Russian (with clear handwriting), French and Spanish
Member since:
16 January 2017
Last activity:
18 October 2019
Hello dear stamp collector! I'm a girl from Finland and I love stamp collecting.
I mostly collect stamps from:
Japan (NIPPON) ♥
United Kingdom
Åland
Canada
Norway (NORGE, NOREG)
Sweden (SVERIGE)
Finland - Already a big collection. Missing mostly 2010-2019 commemoratives and anything before the year 1930.
and the following themes/topics from all over the world:
Europa (C.E.P.T.)
movies
cartoons, comics, children's book illustrations, fantasy
animals
planets, galaxies, constellations
odd shaped, embossed, gold/silver foil
I also like stamps from recent years and all kind of beautiful, cute and girly. :)
Please, no CTO and cinderella stamps
(for example the Dune stamps and some Eastern European, Asian, African, Middle American and DDR stamps with too clear cancellation or corner cancellation). I really don't like them.
I don't hate definitive stamps but I would prefer not to receive too much of them. I'm not a big fan of people's head definitives but the rare ones are ok from the countries I collect.
Thank you for your time and effort! :)