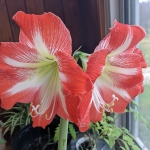 Lots sent:
7
Lots received:
5
Lots in progress:
0
Stars received:
5.00
Country:
United States of America
Languages:
English; can read some German and French
Member since:
14 April 2022
Last activity:
23 August 2022
Hello. I live in the USA, in the Missouri Ozarks. I re-started my childhood collection a couple years ago, and I will be very happy to receive any stamps you are able to send. If they are not items that I collect, I can use them to trade with others.

** I would be especially thrilled to receive any Soviet-era CTO stamps that you want to get rid of. I am actively working on my USSR, Hungary, Poland, and Czechoslovakia albums right now. **

In general, I collect pre-1990 used/CTO stamps from all European countries, Canada, Australia, New Zealand, Israel, Lebanon, Japan, Kenya, South Africa, and Bermuda. The Baltic countries, especially Latvia, are my favorite and I collect all years for those.

For themes, I love stamps (any country or year) that show lighthouses, sheep, the textile industry/weaving, Pope John Paul II, or Queen Wilhelmina of the Netherlands. I also collect stamps, cancellations, and covers related to the Duke of Edinburgh's Award.

Happy trading!