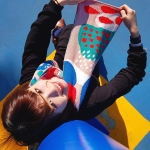 Lots sent:
9
Lots received:
8
Lots in progress:
0
Stars received:
5.00
Country:
Taiwan
Languages:
English, Mandarin
Member since:
30 September 2020
Last activity:
24 May 2022
Hi there!

I'm Ringo from Taiwan, a small island located in East Asia.

I love many kinds of topics, it would be great if you have any of the following themes to offer:

- Dinosaur
- Post themes (postboxes, mailboxes, post offices, etc.)
- Lighthouses
- Railways
- Hot balloons
- Toys
- Playing cards or imagery with similar concept
- Circus, clowns
- Mushroom/fungi
- Traditional costumes
- Astronomy, astronauts, satellites
- Non-religious Christmas, Non-religious Easter
- Traffic safety
- Cute illustration of any theme

*Please, NO Japanese stamps of 80yen and 82yen from 2013~2018 as I have a lot of them*

Thanks, and happy exchanging!